I created these three double-sided etched leaves EONS ago, and couldn't decide whether to simply antique them or add color. They went through a few iterations--putting the finish on, and taking it off--before I settled on this light wash of color via gilder's paste. (The trick to durability is to first give the surface a lot of tooth with coarse-grit sandpaper, degrease thoroughly (I like a mixture of citric acid crystals and Dawn dishwashing liquid), and apply verrrry light films of the paste. I sealed these with multiple coats of Permalac and then Renaissance Wax).
In the meantime, during my most recent (apparently ongoing) bead-binge (what is WRONG with me), I acquired these celery green chalcedony ovals and rustic little robin's egg Indonesian blue glass beads from
Happy Mango
. They were perfect for my leaves! Here's the other side of the leaves: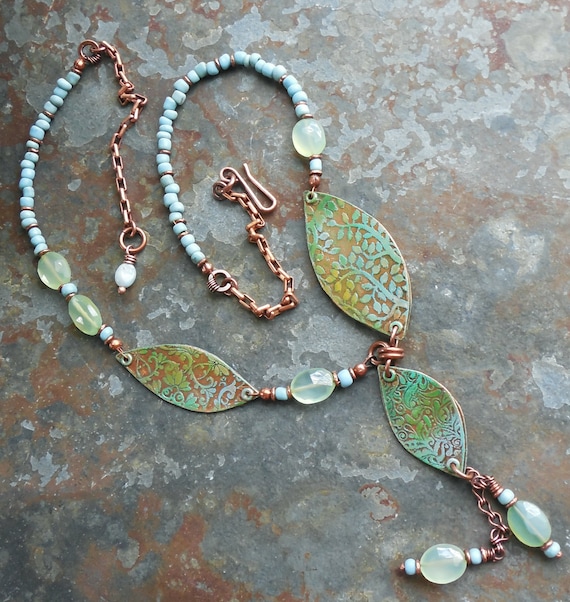 These leaves are based on a template I had previously used for another necklace, and I wanted to use the same asymmetrical configuration again. I etched them this time instead of embossing them, and added some color.
I have some dragonfly wings I prepared similarly, in different colors, that are awaiting their debut. Stay tuned!