I recently stumbled across a shop I saw in my Etsy activity feed,
Scorched Earth
(apparently I was the last to know about this treasure trove of porcelain awesomeness), and promptly fell in love with everything I saw! So I tried to buy everything I saw. But then common sense prevailed and I decided to just buy 14 things instead. Here is a sampling:
I am obsessed with this shape. And the word "bobble."
Petra Carpreau
is a genius. And a doll. (You must check out her blog--
HERE
you go.)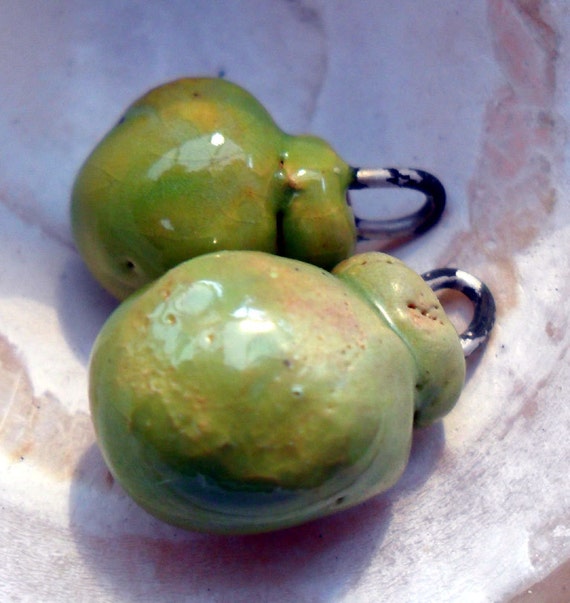 Sour Apple Bobble Drops-like tiny Bartlett pears!
I also love these eggplant-shaped drops so I bought a bunch:
These are like creme brulee. I might have to faux-nibble on them, just a bit:
I do that, the bead faux-nibble, with yummy noises. Nom nom!
I am thinking these might combine with the last of my "midnight" beads from Kelley Wenzel, in a necklace perhaps: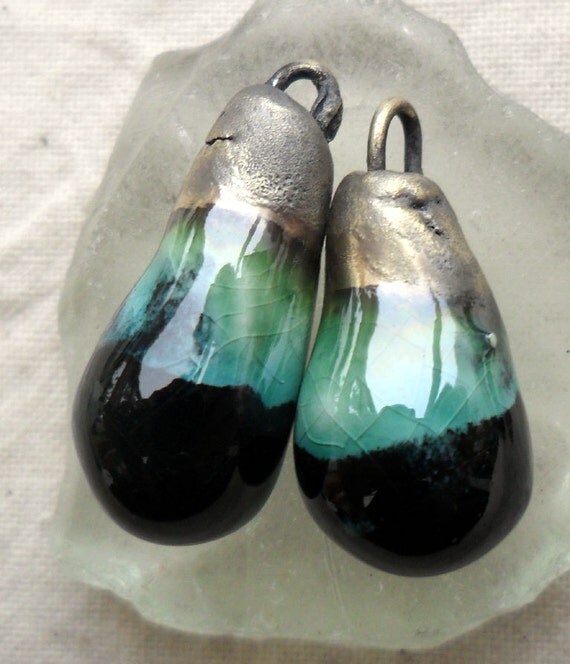 Scorched Persia and Copper Oxide Drops
And look at these fabulous things! Those are the colors of where I live! Glacial lake green, midnight sky, and white snow.
And these look edible, don't they? Pretzel Stix! I will do the Faux-Nibble Nom Nom with them as well.
And lastly, perhaps the piece de la resistance, these little handbag shapes:
I should have gotten these too, dammit:
So much fabulousness, I was nearly weeping as I filled my shopping cart. (One thing I really like about these droppers, is the heavier gauge steel wire Petra uses--sturdy enough for my peace of mind, and it will just look better with the heavier gauges of wire I tend to use in my jewelry.) And as if the fabulousness weren't enough, prices and shipping are also very affordable! Hence the 14 items. I'm going to have to buy more storage soon. I'm thinking something like this: